It's election time in Medicine Hat Alberta and there are more then enough issues to keep all the candidates, and the voters busy deciding who will win. Jeremy Silver for Councilor Medicine Hat Hits the Streets to Take Count at River Road. Jeremy is hands on, as he says, so I went down to talk to him.
Jeremy Silver
I can tell you a lot about Jeremy, I have been waiting for this day for a while. A couple of years ago me and this man who loves Medicine Hat sat down and talked. You can read that here. He told me he wanted to be the Mayor of the Gas City, and we talked about the steps he has to take to get there.
Jeremy is all about learning and experience. He doesn't believe there is any other way to be. Running for Council is the only way he believes he can become Mayor. Without that firsthand experience that should be on his resume, his name can't be on the ballot to lead the way for Medicine Hat.
I can tell you that Jeremy and I might actually disagree about more then we agree about certain things; it's the things that we do believe in together that make us great friends, pretty  much family. He drives me crazy actually with his bent on things but I have the deepest respect and admiration for Jeremy and his value systems. What he believes in and how he stands up for it.
Service
Jeremy is a very committed guy. He wants to save the world and he wants to do it starting here at home. Seeing him sitting in an instant chair first thing in the morning in the cool crisp air Downtown brought a smile to both our faces. He had no idea I was going to show up and you could tell he wasn't quite sure where the conversation was going to lead. The two of us never do.
River Road Medicine Hat
I can tell you we got pretty riled up together talking about what he was doing there. This is the beginning of a lot of conversation over what will happen to the Downtown Core. Whether what is proposed will actually happen or not.
This includes what appears to be tearing down some green space and putting in retail, or condos…and a traffic circle??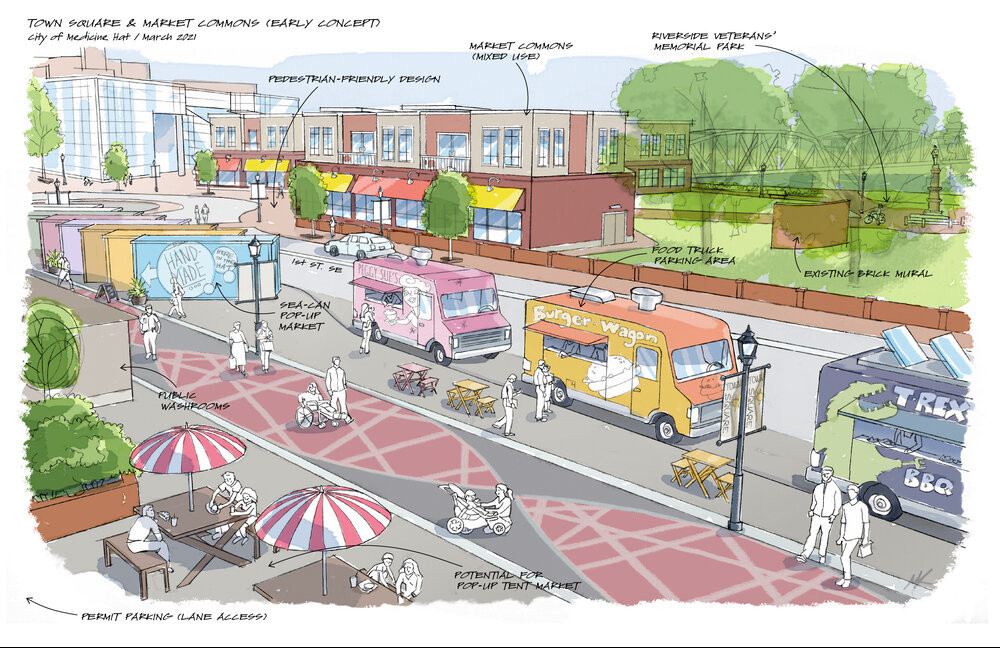 Now, I have only been in Medicine Hat a little over a decade so maybe I am missing something, but I don't think the answer is a traffic circle (Anywhere) or tearing down any of the park that currently sits there.
From where I was standing talking to Jeremy, I could see city hall, and I could see trees. Lot's of beautiful green trees. I can tell you I think the Food Trucks and the pop up market are great ideas, along with a park for the  people. Anything would be better then the parking lot to give the people another possible attraction or reason to head downtown in Medicine Hat. In my opinion, anything that involves tearing down one tree…or building more retail where a park exists…is wrong.
The possibility of River Road closing is why Jeremy Silver is sitting there taking count. The traffic I saw in the 15 or 20 minutes I was there demonstrated a need for the road. In fact, there was enough traffic going by that I had to be careful I didn't step back into the street while I was talking to Jeremy.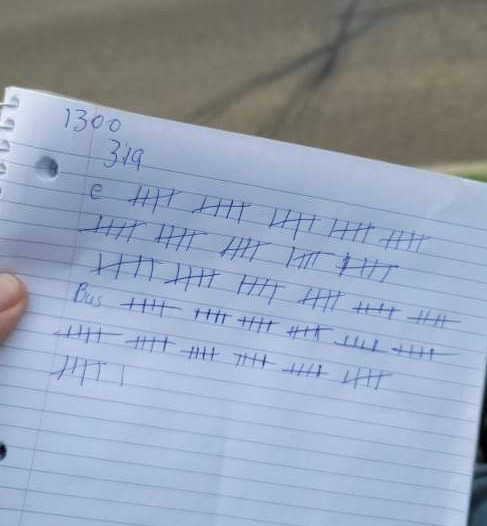 I don't know exactly what is in store for this project or the future of this Beautiful city we live in. At last count Jeremy was at 1300 and counting for another hour.
Now I might not be an engineer, but that sounds like a lot of Hatters using River Road every single day.
I think Jeremy being down there counting and ready to face the voters or guys like me is a testament to his campaign and serving the people.
Silver's Campaign
His campaign is based on his value system. Honesty and Commitment. I don't think there could be more a more truthful person in office to represent the voters.
I think it is very clear that the people who live in the City of Medicine Hat want some changes when Election day comes. The words transparency and accountability have been heard a lot. This means different people expecting different things from all of the Candidates.
I think it is safe to say you will get all of those things if you vote for Jeremy Silver to be a Councilor in Medicine Hat for 2021. He takes a vested interest in his community, from Volunteer, to Small Business Owner and Entrepreneur, to running for political office. You can take a look at what he is doing on his Facebook Page.
Jeremy says even if he doesn't win, it will be worth it for the learning experience. I'll be honest, I give him a hard time about it too…but he is sincere, honest and committed. More then that, This man is Genuine.
I hope you win Jeremy, I think you deserve it. No matter what happens this year, I know you will be the Mayor of Medicine Hat one day. Because it is in your heart to lead the City you Love.
Thanks for Reading!
Looking forward to the next adventure meeting the People of Medicine Hat!
Jared's Digital Agency, where Community is Family!